When we booked a week in the West Village, with our flights scheduled to arrive on November 8th, I suspected we'd be in for an historic visit. But I don't think anyone  anticipated the seismic results of Election 2016. Even my usual See+Do is feeling the ripple effect. Still, I was lucky enough to experience many wonderful places. Please read on.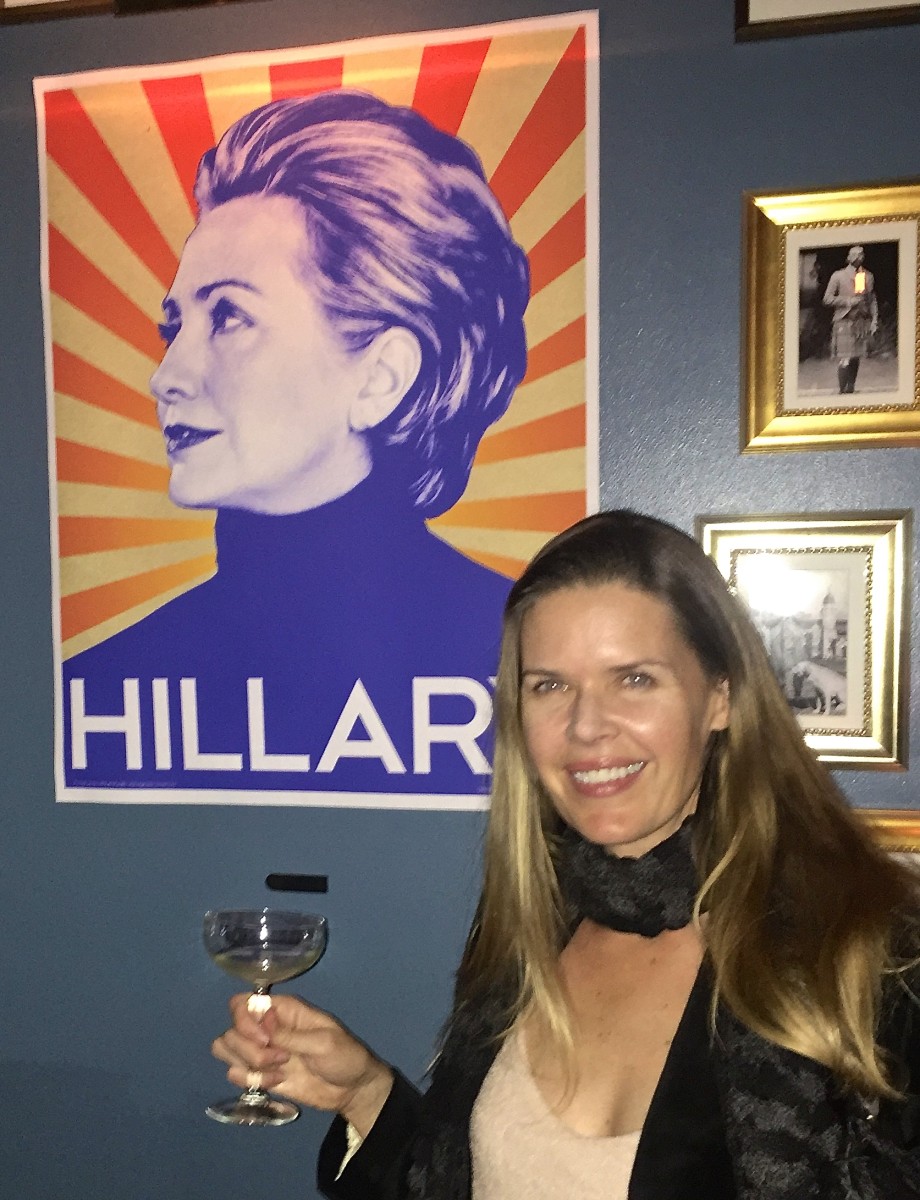 My Guide to Dining & Drinking in the West Village and beyond… while trying to put a happy face on political sadness.
On Election Night, the Empire State Building blazed red, white and blue. In the West Village, Highlands Gastropub was festooned with a giant American flag outside, and raucous Hillary supporters inside. At regular intervals they traded television pundits' audio for entertaining anti-Trump rants. When they played Robert De Niro's, the Dems were looking good. I had to raise my glass. Which, by the way, was filled with the perfect martini. Cucumber to muddle? Botanist gin? No problem. I love it when my drink requests are do-able. Calgary, I'm looking at you.
Of course, we all know what happened next…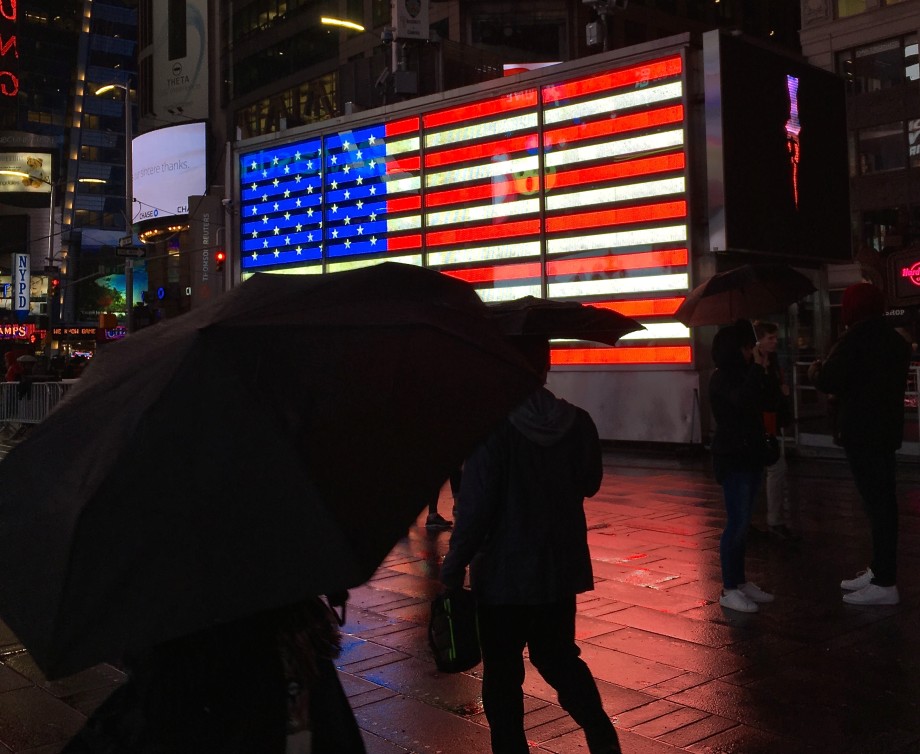 … a dark day in America. When we stopped by Highlands again later in the week (because it's that good), the bartender remembered my drink. And confided that he had closed the bar on November 8th to grown men crying.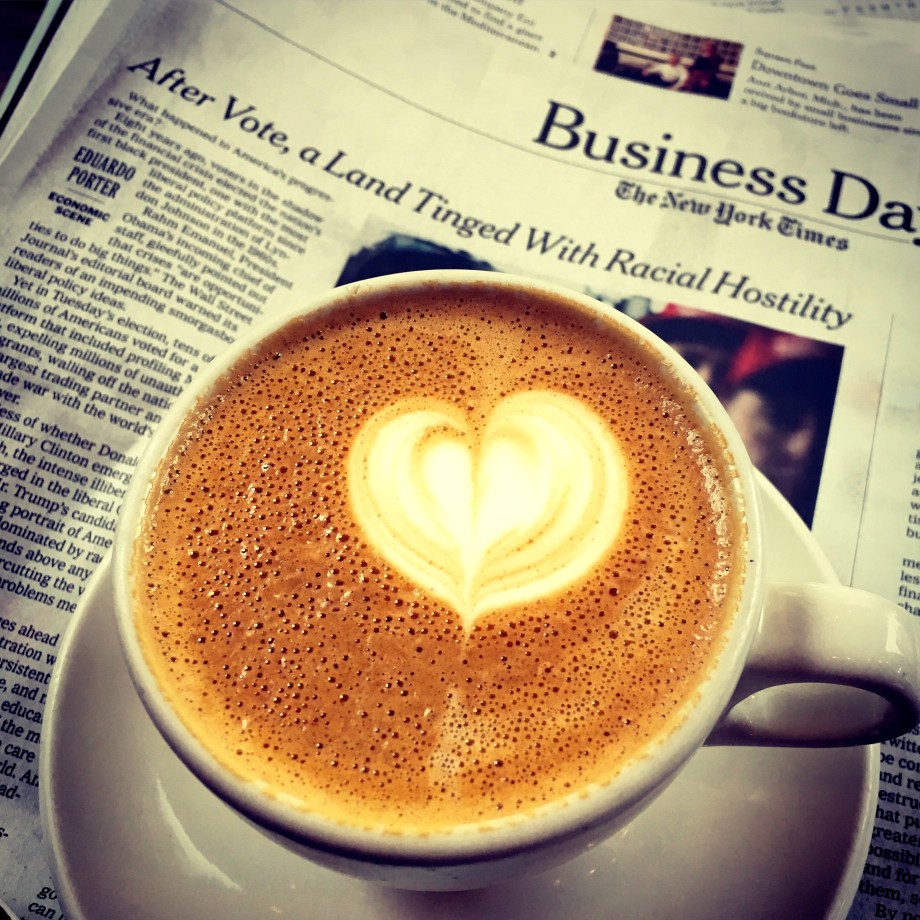 At Toby's Estate Coffee Shop on Charles Street, the day after the popular vote did not elect the president, I thanked the barista for the heart atop of his perfectly brewed cappuccino. He said, "We all needed some extra love right now." Yes.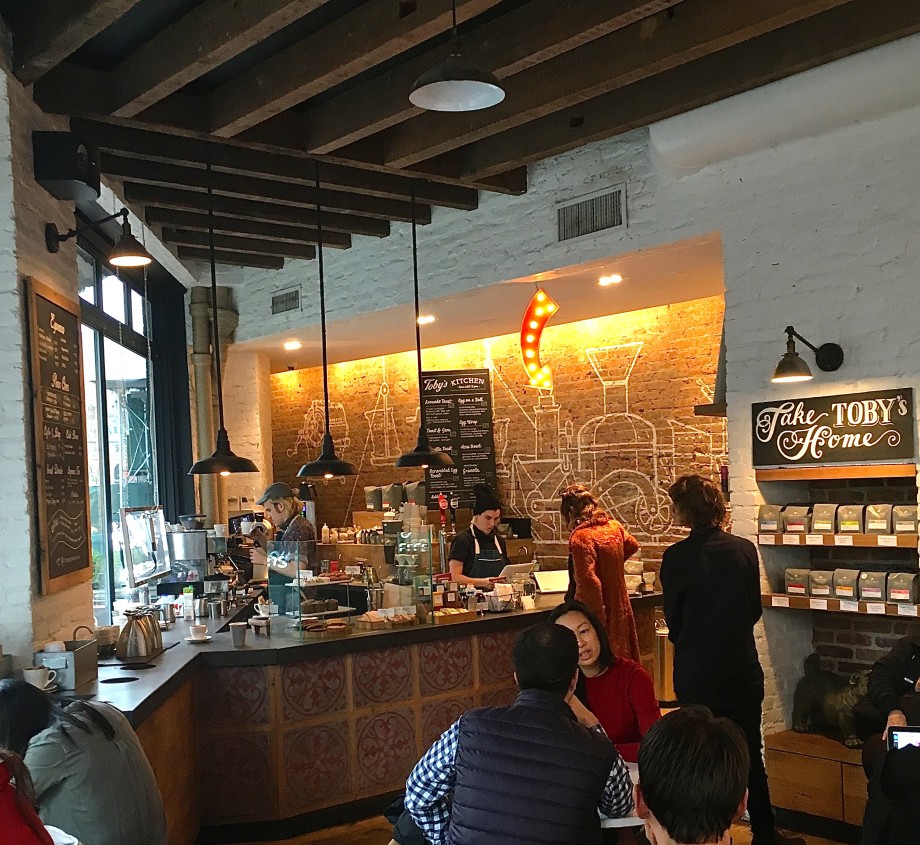 So I'm going back to what I usually do on Blue Besos:  tell you about the things I love. Starting with this little coffee spot. Of all the java joints in the West Village, Toby's was the place we kept coming back to. Get there before 10 am if you want a croissant, because they go fast.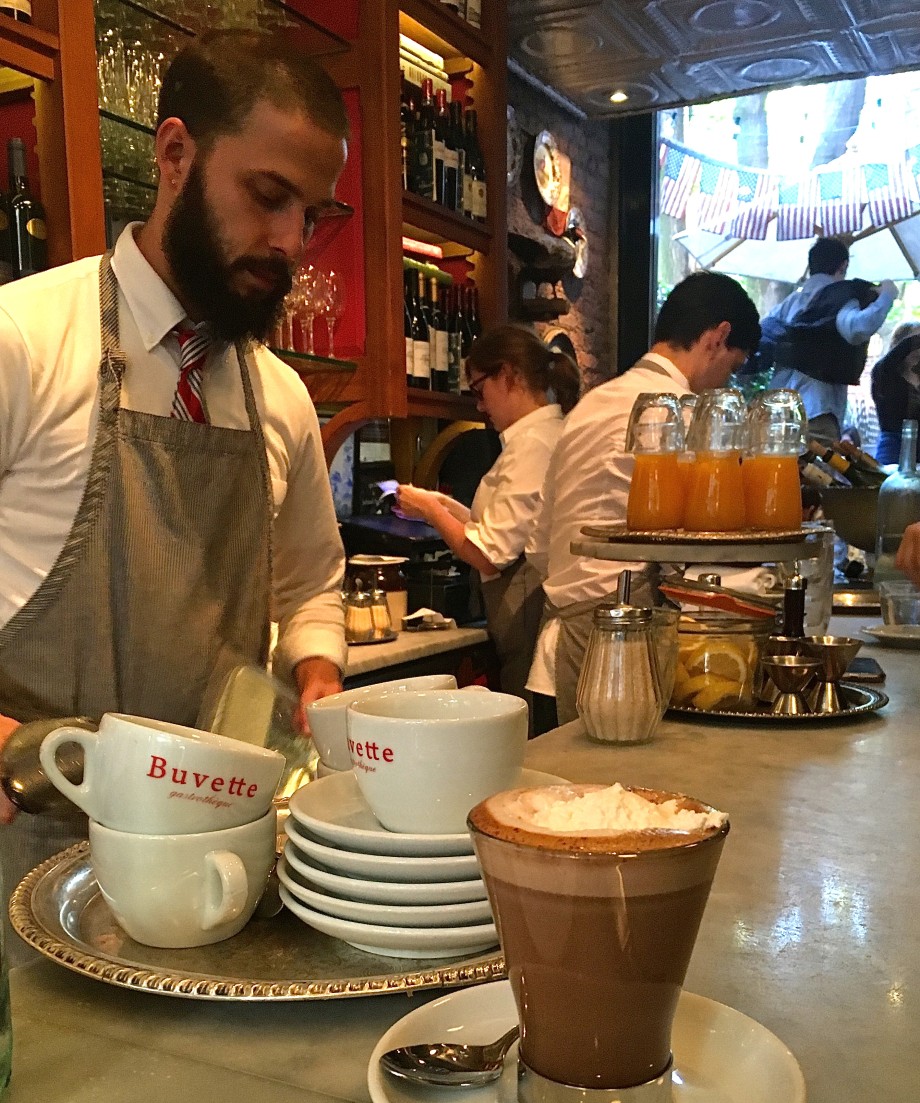 If you're in the mood for a full meal, however, Buvette is one of the best breakfasts I've ever had. Waffles with gorgonzola, bacon and syrup, anyone? The space is extremely tight and extremely charming. Half a dozen people did a server ballet behind the counter, without ever bumping into each other. This serious fellow in the beard would quietly call for service when the meals were ready, and waiters appeared to take cappuccino-machine-steamed eggs away. After this magnificent mocha, I forgot to take photos of the food. Je sues désolé.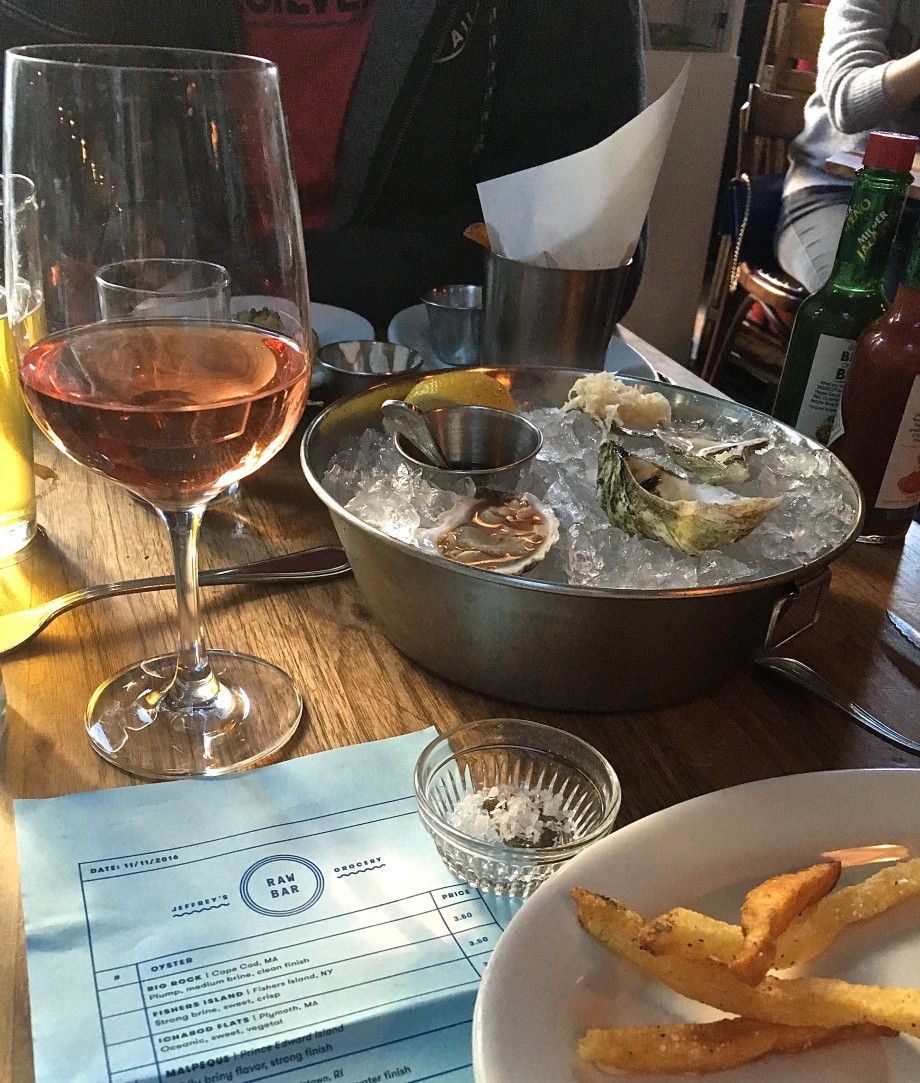 With all the walking we did, we worked up the need for sustenance again just a few hours later. Jeffrey's Grocery was there, ready with rose and fresh oysters.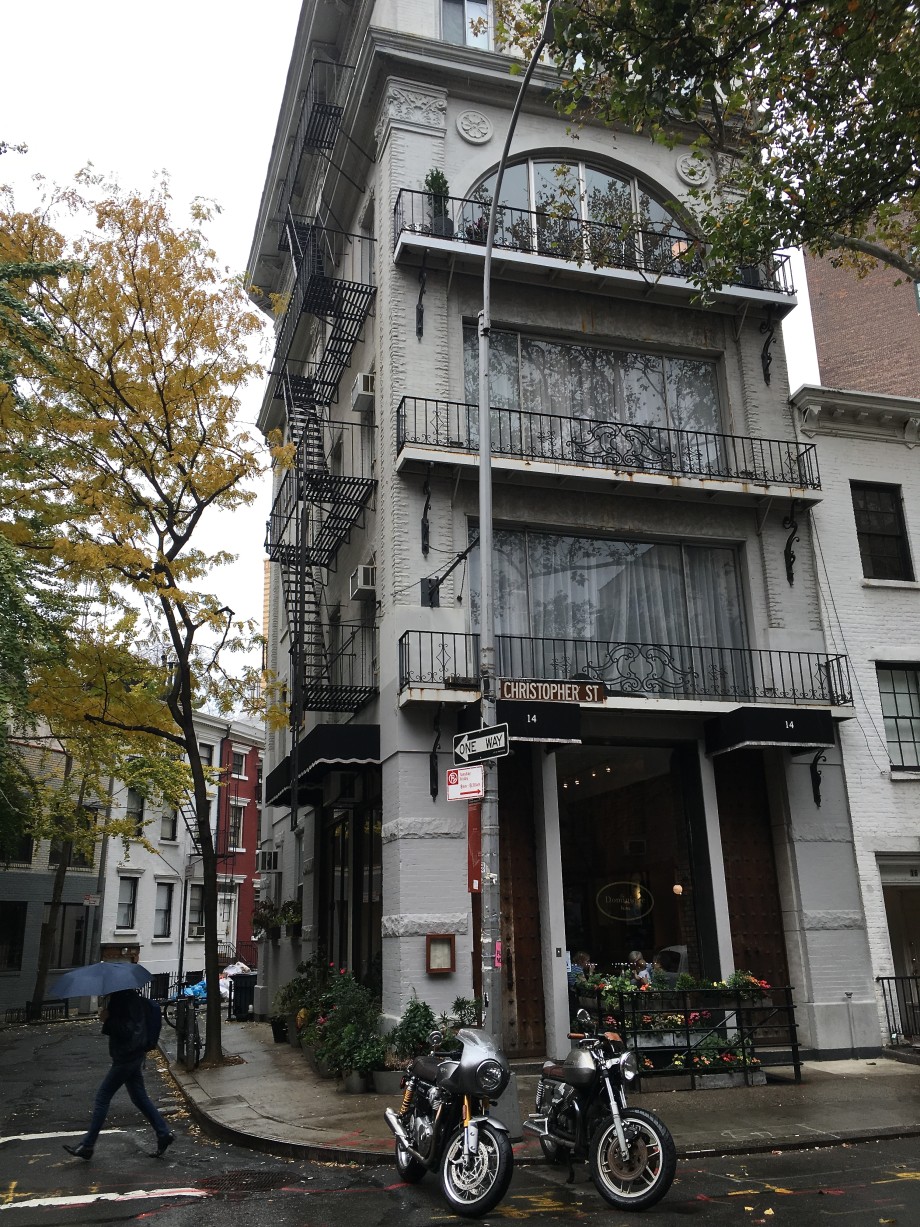 We didn't go to Dominique Bistro, which I regret. Because… look at it!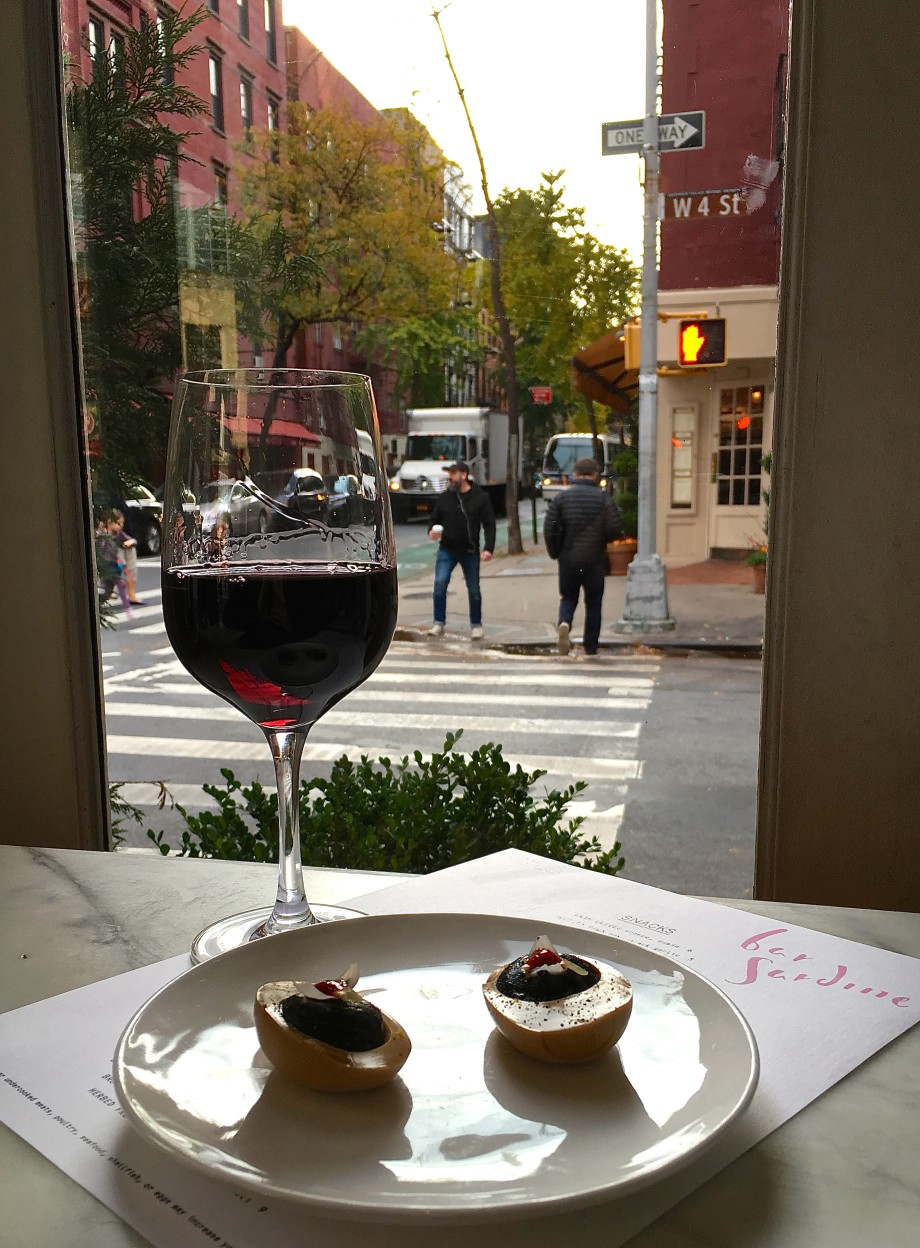 However, we did try some of the most unusual soy and black garlic deviled eggs at Bar Sardine, on one of the best corners for people watching in the West Village. That is an unqualified statement, of course, but you do have a corner view from the bar. That will pass any fact check.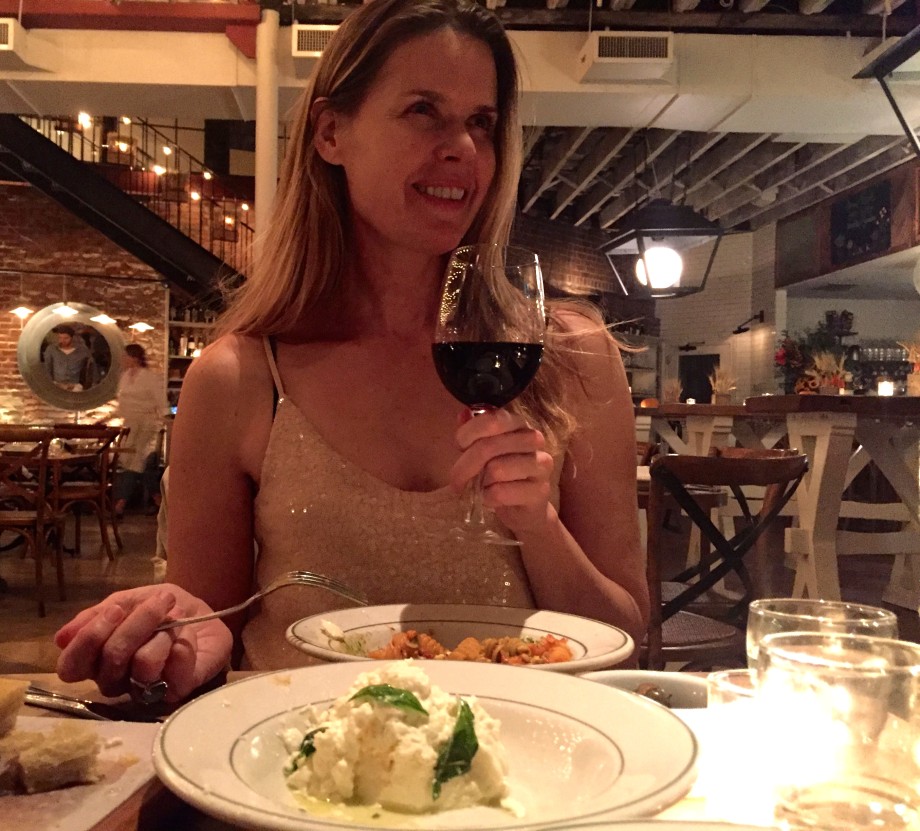 This photo was taken at Rosemary's (after the pre-dinner drink at Highlands) when I thought the waitress was joking when she said who was winning. Anyhow. We loved this place, even though their burrata dish has no tomatoes. Their rooftop garden provides the fresh seasonings that make everything incredibly delicious.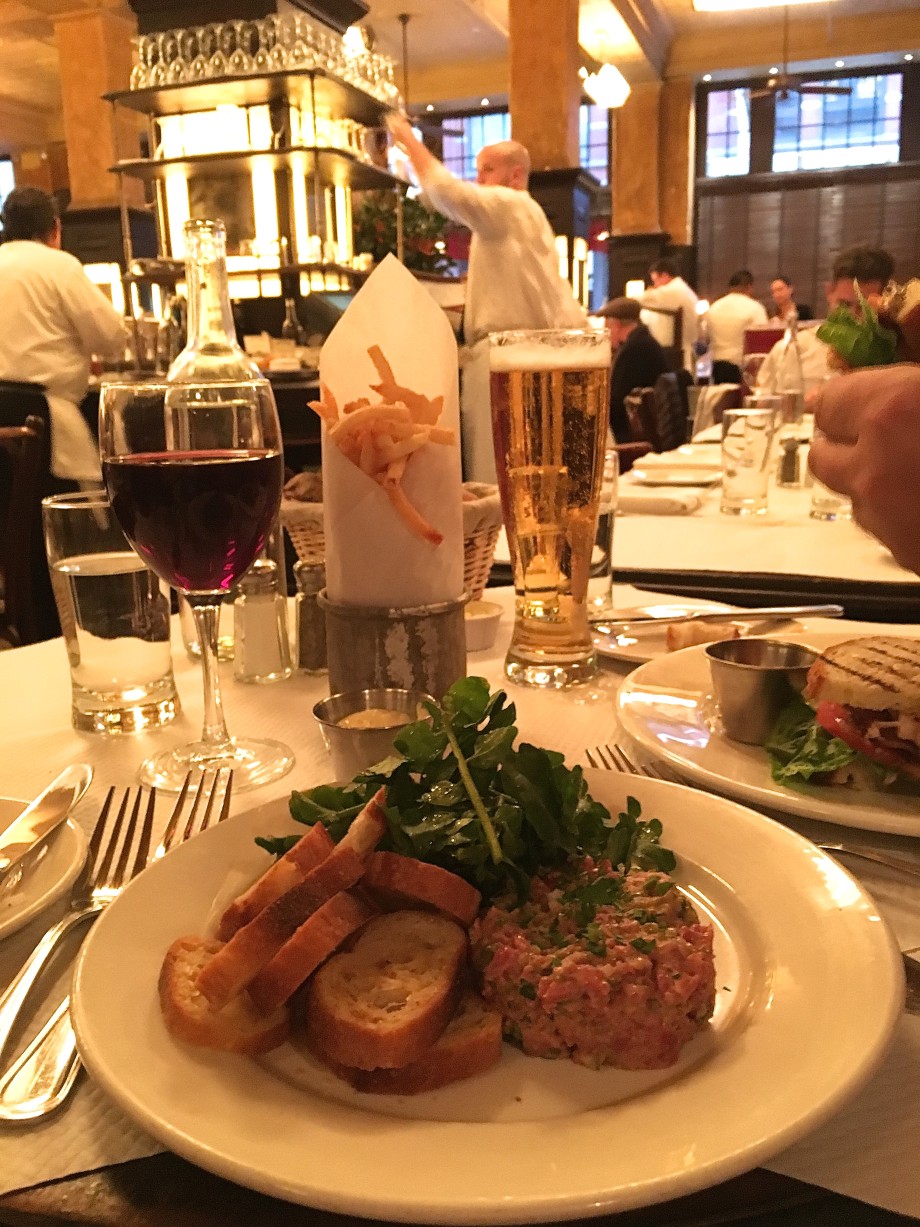 We also stopped in to a place I've been many times. Balthazar is a fantastic respite in the middle of a Soho shopping spree, and their steak tartare never disappoints. The tower of frites was a constant theme, everywhere we dined.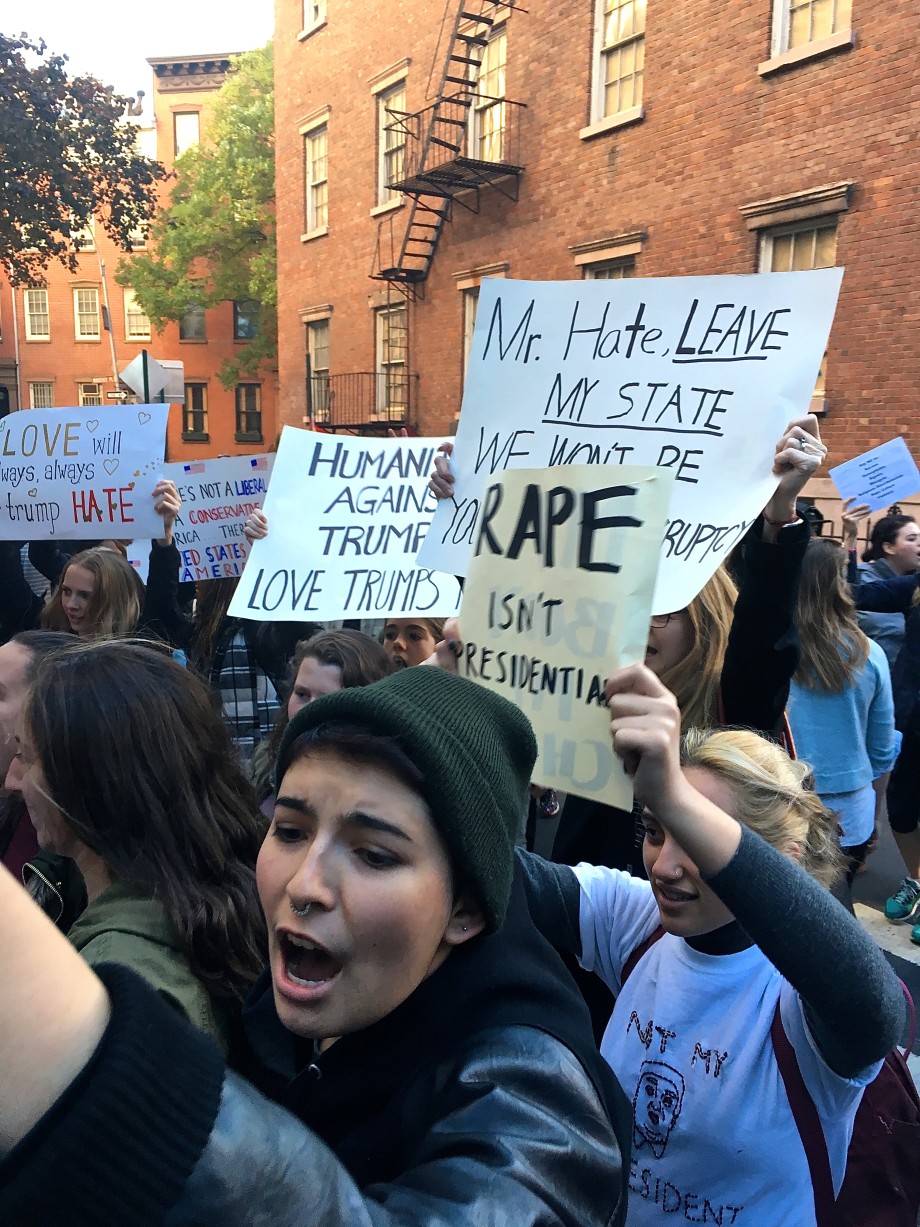 So were protests, like this one, outside of Jeffrey's Grocery.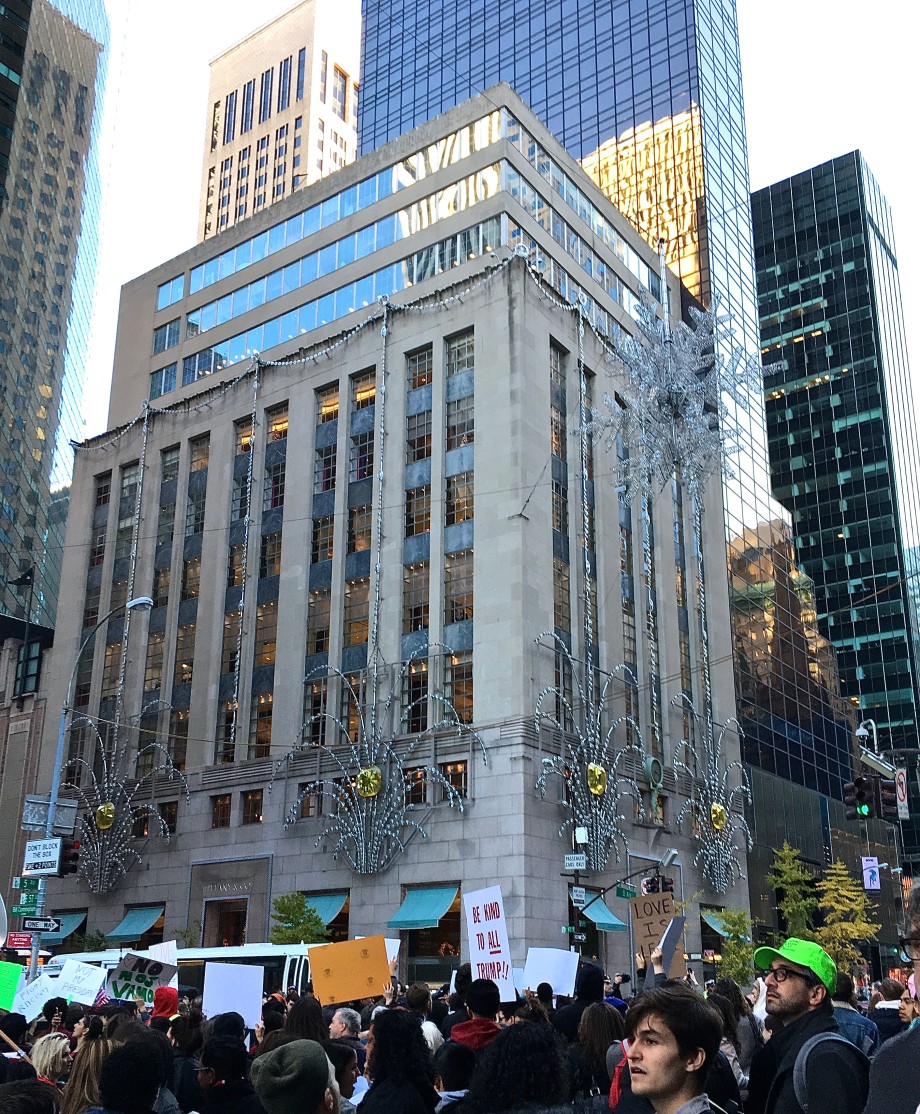 And this one, on Fifth Avenue. With its unfortunate address next door to Trump Tower, there would be no shopping at Tiffany's today. However, it did inspire us to duck into the Peninsula Hotel at 55th Street, to recalibrate our retail strategy. The rooftop terrace (not pictured) offers $23 drinks, mediocre service and excellent views of Trump Tower. As the day dialed into evening, we could see the protests continuing on Fifth, under the super moon, with outdoor heaters keeping us warm. Disappointed with the Plaza's Rose Room attempt to make up for the banished Oak Bar, I definitely recommend stopping by the Peninsula's Salon de Ning instead.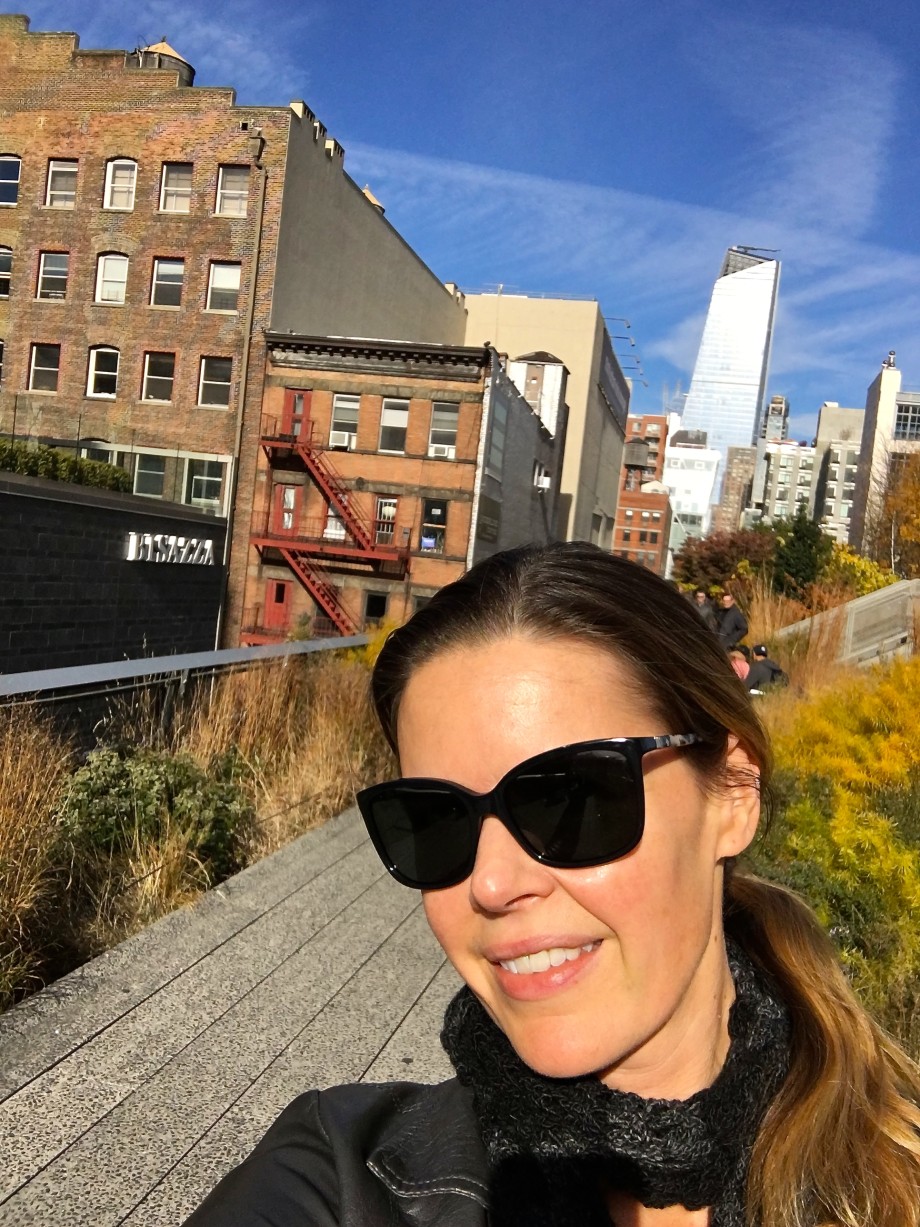 Back downtown, we took a breather from politics, and tried to walk off a few calories on the raised railway track, converted into a walkable garden,  that flows above Chelsea. Here's my Highline Selfie. Because when they go low, we go high!