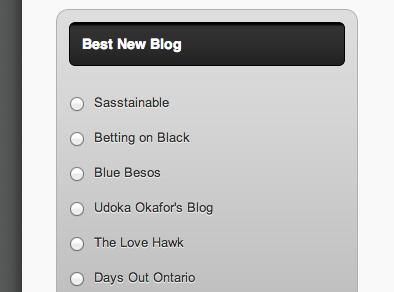 Hey everyone! Look at Blue Besos — it's on the list of nominees for Best New Blog on the Canadian Blog Awards website.
Now here's where I start to beg.
Please, please, please take a second to vote. It only takes a second because they don't have any pesky requests for your personal email, etc. All you have to do is click the link above, scroll down to the Best New Blog section, click the circle beside Blue Besos (hopefully!) and click the VOTE button. The best part? You can do it from anywhere in the world!
Thank you, thank you, thank you. Besos!!